Mangaluru: Corona Virus scare – district health department takes preventive steps
Bellevision Media Network


Mangaluru, 01 Feb: ZP chief executive officer Dr Selvamani R advised the officials to report any suspicious cases of corona virus either in state-run or private hospitals.
Dr Selvamani was addressing Dakshina Kannada district inter-departmental officials meeting on corona virus that originated in China, at ZP conference hall, here on Thursday, January 30.
She also said not to be fearful of corona virus as the health officials are already on their task in creating peoples awareness in this regard. Meanwhile, she urged all department officials to coordinate to take preventive measures and quarantine such cases once reported at any hospital.
DK district health and family welfare officer Dr Ramakrishna Rao said that LED screens are installed at Mangaluru International Airport, Mangaluru Central Railway/Junction Station and NMPT to alert the people on outbreak of corona virus.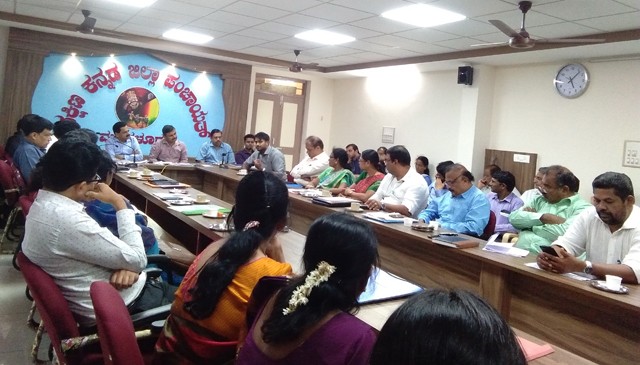 Symptoms:
High fever, cough, cold, breathing difficulty and passing stool are key symptoms of corona virus. It spreads just like flu, by cough and sneezing. It can be detected by spectrum, mucous from nose and blood group. The treatment depends on the symptoms, said Dr Rao.
Precautions
Always cover the nose and mouth while coughing and sneezing. Wash hands properly with soap and maintain general cleanliness. It's better to keep away from people who are ill owing to fever, cough and sneezing. Avoid direct contact with animals and always properly boil the meat while making curry.
The district viral disease controller Dr Naveen Chandra Kulal, district family welfare officer Dr Sikander Pasha, district surgeon and medical superintendent Dr Jacinta and other department officials were present.