Coastal farmers keen on rearing Swarnadhara, native broilers like Malnad residents
Bellevision Media Network


Mangaluru, 26 Oct: Agricultural Science Centre that is associated with Indian Agriculture Research Council, organized 'Swarnadhara' genetically-modified native broilers rearing training programme at the Centre, Kankanady, here on Fiday, October 25.
The training was organized as 'Swarnadhara' native broilers, developed by Karnataka Veterinary, Animal and Fisheries Science University at Bidar are in great demand i n Dakshina Kannada district and local farmers can rear them at their household.
The chicks grow from 1 to 1.2 kilograms within 8 weeks that is twice the weight gained by other native broilers. It also hatches 180 to 200 eggs annually. The coastal farmers can rear them in small scale at the household without erecting cages.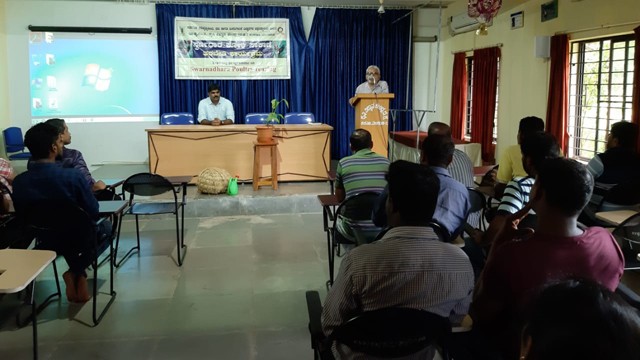 In his inaugural address, the veterinary officer Dr Gurumurti said that the farms of Swarnadhara species of broilers are mushrooming in Malnad regions of Karnataka and the coastal farmers have also shown keen interest in this regard. He shared tips on scientific rearing, providing food, hatching, managing dieses and waste with the participants.
Dr N Chetan informed them of supplementing income of household families by rearing Swarnadhara broilers. It can be ventured into with a little money that would give nutritious food supply to rural people.
Agriculture Science Centre soil scientist Dr Mallikarjuna and staff Satish, Deepa, Soumya, Vidhyavati, Sitaram, Somashekarayya and Ashwit were present.
Later, hatchlings were sold at subsidized rates to the participants.