Law student donates her hair for cancer affected children
Agencies


Mangaluru, 20 Sep: Hair is a decoration for a woman. Girls try their level best to gain healthy log hair. Including advice from doctors, they also try all sorts of oils to keep their hair healthy. But here is a girl student, who has donated her locks to see hairless children smile.
Pavithra Shetty, pursuing BA, LLB, at SDM College in the city has donated her hair to see cancer affected children smile again. Originally from Kholapur in Maharashtra, Pavithra came to the city to study law. For some inevitable reason, she had to visit a hospital where she noticed children who had undergone chemotherapy and moved by it, she decided to shave her head.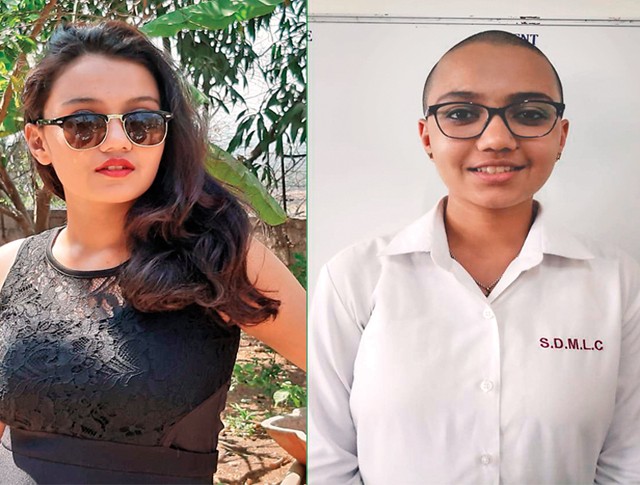 Sister, your hair is beautiful!
A few days back, Pavithra visited a hospital due to a health problem. The doctors had asked her to wait for some time in the OPD and as she was waiting, she noticed two small children who had come for chemotherapy. The children looked at Pavithra, touched her hair and said that her hair was very beautiful. Witnessing the helplessness on their face pained Pavithra's heart and although she met the doctors smiling and returned back, the incident left a mark in her mind. Later, Pavithra contacted a cancer service centre and discussed about hair donation and last week, she donated her 18 inch long hair.
Several students in the city donate their hair
Even before Pavithra, students of various colleges in the city including girl students, have donated their hair for cancer patients. The hair has been donated through the institution which is working to collect hair for cancer patients. During the treatment for cancer, one might have to undergo chemotherapy, and the therapy leads to hair loss. During such an occasion, most of the women fell depressed. Therefore, wigs are created for them. Hence, several institutions are conducting awareness programmes regarding hair donation for cancer patients.
Hair increases the beauty of very girl child. But seeing those children, I felt that a smile on their face was way more valuable than my beauty. I spoke to my mom and donated my hair. Everybody should be made aware about this – Pavithra Shetty