Minister Kota Srinivas Poojary to propose setting-up Brahmashree Narayan Guru Nigam
Bellevision Media Network


Mangaluru, 14 Sep: A proposal will be presented to Karnataka CM B S Yeddyurappa to approve setting up of Brahmashree Narayana Guru Nigam who was a voice of poor and oppressed in the society 150 years ago; whilst CM would attend Narayana Guru Jayanti celebration in Bengaluru on Saturday, September 14, said state religious endowment, fisheries, ports and hinterland minister Kota Srinivas Poojary.
Srinivas was speaking after inaugurating 165th Brahmashree Narayana Guru Jayanti that was held at Gokarnanat temple, Kudroli, here on Friday, September 13. It was jointly organized by Kannada and culture department and DK zilla panchayat.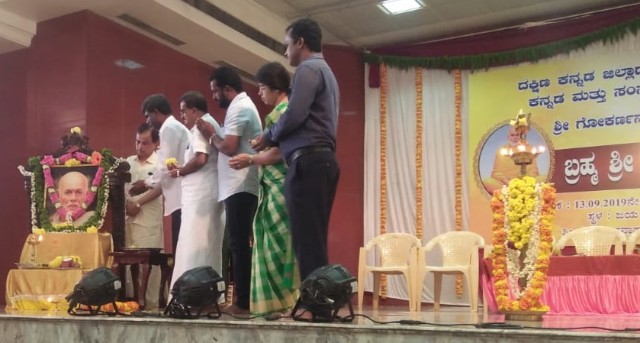 Narayana Guru propagated equality in society, succour of poor and oppressed in the caste-ridden greater India for over one-and-a-half century ago, added Srinivas.
The former minister and reigning MLA U T Khader said, 'Narayan Guru shared the message of unity and equality that should inspire one to live as worthy citizens with harmony. Human life is supreme in God's creation. Meanwhile, Jayanti celebration should not be limited to one-day event; instead the people should be sensitized over the virtues of Naryan Guru's teachings for harmonious living,' said Khader.
Kudroli – Narayan Guru PU College Kannada lecturer Keshav Bangera delivered talk on virtues of Narayan Guru that are relevant even this new era.
ADC M J Roopa, Kudroli – Gokarnanat temple governing council chairman H S Sairam, Kannada and culture assistant director Rajesh G, district Kannada Sahitya Parishat president Pradeep Kumar Kalkura were present.