Rehabilitation activist herself does not have a residence
Agencies


Differentially-abled won suffering without land, title deed
Subrahmanya, 28 Aug: This is a pitiful story of a differentially-abled mother born with disability, forced to limp, helpless since unable to go to work, deserted by her husband with the excuse of disability, abject poverty and no residence.
Meenakshi of Aivattuklu Pallodi house in Panja village was born with the disabled leg. She finds it difficult to walk and hence unable to get employment. Her husband too has abandoned her. She has two sons who go to school. This family does not have their own house. Therefore, the mother keeps together the small family with a nomadic lifestyle at some empty place and looks after her children.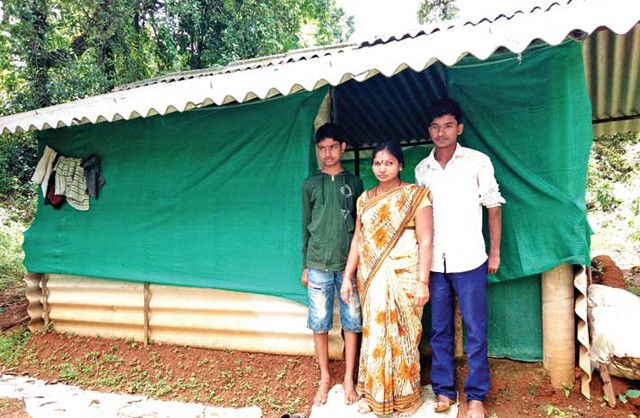 Husband abandoned her
The woman was very proud and respectful of Ananda Gowda, who married her despite her disability. But, it did not last for long. After marriage and having two children, the man resorted to alcohol. Later, he forgot his wife and children and stayed back at his home.
Day-wage labourer
After getting separated from her husband, homeless Meenakshi looked after her sons by working as a day-wage labourer at shops and hotels in Subrahmanya, Guttigaru and other areas. Even now, she is working at a hotel in Guttigaru. She is residing with her children in a temporary ramshackle hut near Nadugallu by paying low rent. Both her sons are pursuing their studies at Guttigaru high school, with one in 10th std and the other in 9th std.
Survival in a shed
In accordance to the advice by Dr Ramayya Bhat of Panja, Meenakshi created a shed in an empty plot in Pallodi. Then, a TP member had provided monetary assistance of Rs 20,000 and through a loan, a small shed was built. She submitted an application for the same plot under 94C scheme. She has ration card and Aadhar card. Since 2008, she is paying house tax. Even with all this, the exploited family has not yet received the title deed.
Rehabilitation activist
Meenakshi is also a rural Empowerment of Persons with Disabilities worker. For this service, she is being paid a monthly fee of Rs 3,000. She is also receiving a monthly pension of Rs 600 for disability. Other than this, she has no other income.
No response for request
Meenakshi has been desperately pleading for land and has also submitted an application for land with MLA U T Khader. He asked the Deputy Commissioner to take action. Although, multiple requests have been submitted to the Department of Empowerment of Persons with Disabilities, it has been to no avail.
Meenakshi has a good relationship with her in-laws and her hometown. Her father expired when she was but an infant. Even after her marriage, her own family has provided much help. Her husband has taken to a vice has lost everything. Only two good children remain and Meenakshi aims to grow them in a good manner.
Inspection directed
In connection to not having provided the title deed to the suffering family, I have notified the concerned officials of the revenue department to carry out inspection in this regard. I'll inform of what action to take next – Kunhi Ahmed, Tahsildar
Worried about the children
It's been many years since I've had on peaceful sleep. Nobody should be born with disability. If born, they should not survive in such a horrible condition as mine. Health problems are affecting me too. I constantly worry for my children – Meenakshi, Empowerment of Persons with Disabilities worker