No more reckless digging of city roads; DC instructs Smart Roads for Smart City
Bellevision Media Network


Mangaluru, 10 May: DK district Deputy Commissioner Sasikant Sentil urges the officials to think out of the box in developing infrastructure for Smart City Projects in Mangaluru.
Addressing the officials at the district headquarters, here on Thursday, May 9, DC Sasikant instructed the officials of different departments to work in co-ordination thereby avoiding the need to dig up the roads once paved to perfection.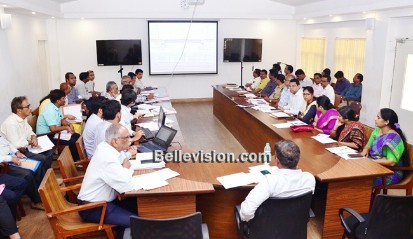 He also advised the public utility providers – Mescom, KUIDFC, KPTCL, drinking water supply and PWD to co-ordinate the infrastructure developments with the officials of Smart City Limited. Under Smart City Project, the roads ought to be people-friendly with proper footpath for passengers, he added.
BSNL and Mescom engineers had to state in KMZ format on which roads they are likely to dig up to lay the cables, he cautioned.
He advised the officials to convene an inter-departmental meeting ahead of Smart City meeting; once the municipal body completes the road works by the end of May.
He instructed the civic officials to complete the pending road works either by TDR or dialogues on Mangaladevi Road and Bhavanti Road, besides to resolve the parking issue of passenger buses at Kankanady market in consultation with RTO.