CPI stages protest condemning miscreants act of setting ablaze their office
Bellevision Media Network


Bantwal, 05 Jan: CPI Bantwal Committee in collaboration with other political parties staged protest in front of Mini Vidhan Soudha, here, on Friday, January 4, to condemn the miscreants' act of setting ablaze CPI office functioning at A Shantarama Pai Memorial Building.
Addressing the protesters, CPI Karnataka state secretary Sati Sundaresh said, 'Their building was not built with the donations from multinational companies. It was built out of sacrifice and austerity. It was built to help the poor in getting justice and address their issues, besides as memorial to Shantaram Pai,' said Sundaresh.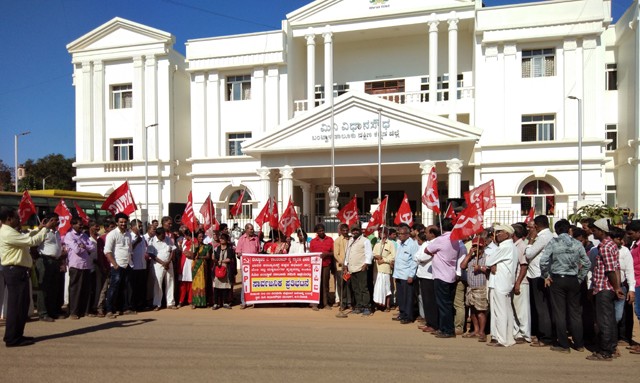 'Miscreants have set ablaze not just the CPI office but for the records of long-maintained tribal people, oppressed women and children, bidi and construction laborers. We know who is behind this heinous act, he said. Meanwhile, he challenged those who set fire to their office during the night in a cowardly act to confront their ideology.
RSS has hidden agenda of stemming Dalit, minority and CPI (M); but we will not bulge to their threats, said Sundaresh. The struggle is underway in Kerala between pro and anti constitution, while RSS has exploited the situation to create communal disharmony against SC verdict.
BJP won the last parliamentary elections with the promise of building Ram Mandir, while this time it's using communalism as a weapon in its upcoming poll campaign. Its using Adivasi and Dalit community for their political gain, said Sundaresh. 'The need of the hour is to stage struggle against inequality, humanity, anti-people policy and anti-constitution protests,' he added.
CPI district secretary V Kukyan, Congress leaders Vasu Poojary, Sadashiv Bangera and Abbas Ali condemned the miscreants act.
CPI district deputy secretary V S Berinja, R D Soans, A Prabhakar Rao, H V Rao, B K Krishnappa, Karunakar M, Babu Bhandary, Saraswati K, Vittal Bangera, Congress leaders Baby Kunder, Sudeep Shetty and others were present.