Mangaluru: Jayamala visits anganwadi centres
Agencies


Mangaluru, 09 Aug 2018: Anganwadis in Bejai Kapikad and Shakthinagar had a surprise visit from Minister for Women and Child Welfare Jayamala here on Monday.
At the anganwadi in Bejai Kapikad, the Minister checked the food prepared by cooks, asked them to maintain hygiene during preparation and directed the personnel to provide food as mentioned on the menu card. She also asked them to meet the requirements of food for coastal areas. She also interacted with the children and the anganwadi teachers.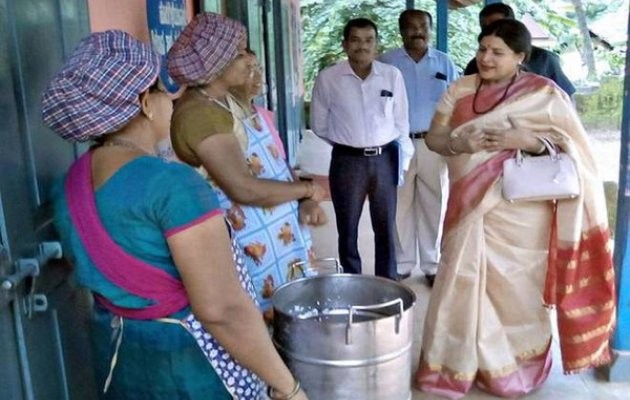 The minster directed Sundara Poojary, deputy director of the department to clean up the area surrounding the Bejai-Kapikad anganwadi centre so that the children could indulge in outdoor activities. The minister also telephonically instructed Mangaluru South BEO to provide the required land for the new anganwadi building at Bejai on the premises of government school there.
At the Shaktinagar anganwadi, Jayamala checked the quality of the grains stocked in the godown. She directed authorities to keep the premises clean.
The minister later visited the Rani abbakka Tulu Study Centre and Tulu Museum at Bantwal. She was accompanied by Thukaram Poojary, director of the Centre and former minister B. Ramanath Rai.