The Empire Strikes Back
By Philip Mudartha

Bellevision Media Network


04 Jun 2015:

Valerian Alva wrote: It is proven fact that BJP government will not allow Kejriwal to succeed as AAP may create more troubles for them in the days to come. Hence, they are creating all sorts of problems through their own Lieutenant Governor.
I highlight a few phrases in his comment to the exclusive article 100 days of battle for control of Delhi.
Proven fact:
History of our Republic holds several of those proven facts.
1. The Dismissal of first non-Congress government of Kerala: Namboodiripad led CPI government got popular mandate in 1957. It introduced a Bill for reforms in land and education. The power of local landowners and their allies, Nair Service Society (NSS) Christian churches and Muslims led by IUML, was threatened. They launched state-wide agitation under the leadership of the Indian National Congress (INC), which was ruling party at the Centre. Citing law and order, the CPI government was dismissed. The President's rule was imposed.
2. The Dismissal of first non-Congress government in West Bengal: A. K. Mukherjee led ULF government got popular mandate in 1967. It introduced reforms in favour of workers, peasants and lower middle class. The propertied, industrialists, rich and upper middle class felt threatened. They had control over mainstream media and INC government at Centre. Agitations and propaganda were launched. The ULF government was dismissed. The President's Rule was imposed.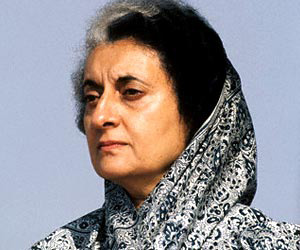 3. The Unseating of Indira Gandhi and imposition of National Emergency: Indira Gandhi, the dumb doll elected by a manipulative INC in 1966 to be our PM, herself aligned with Soviet Union in our foreign policy and aggressively implemented began structural reforms. She nationalized private banks and abolished privy purses of erstwhile princes. Her legislative agenda fell out of favour with traditional ruling elite of landlords, industrialists, private entrepreneurs, rich, upper middle class and right-liberal elites. Needless to say, it led to purges within INC, which split into Indira Congress and Old Congress. Indira Congress vanquished Old Congress and its allies in 1971 general elections. The vanquished took to streets in protest: bandhs, strikes and gheraos became common place. Her election was successfully challenged in the High Court of Allahabad, which unseated her as MP. Overcome by a sense of siege, she survived in power by declaring national emergency.
BJP government will not allow Kejriwal to succeed:
BJP is not INC. No doubt, INC had been the refuge of ruling classes. Indira Gandhi was an aberration. Rajiv Gandhi onwards, all Congress-led governments have compromised. The result is a phenomenon called crony capitalism. The scourge is corruption scandals. In state capitals, the leftist governments in Kerala and West Bengal as well as those by state parties (Samajwadi Party, Janata Dal, both offspring of DMK, etc.) have made compromises with the ruling classes even as proclaiming themselves as pro-poor and economically disadvantaged.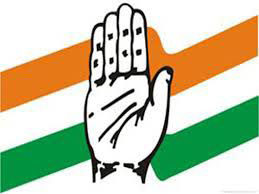 In other words, they have not rocked the boat as much to threaten the ruling elites. At national level, the moneyed class have routinely provided campaign and party funds to both INC and BJP including their allies in proportion to their likelihood of capturing power.
Post-liberalization of 1991, the ownership of private media has fallen into the hands of big business tycoons and their corporate allies in foreign media houses. Thus, mainstream media and opinion-makers in their pay are mouthpiece of ruling classes. Today, most are aligned with BJP and its allies and some with Congress and its allies.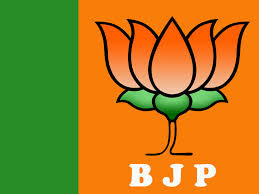 Post liberalization of 1991, INC and BJP are two sides of a coin, notwithstanding the loud and shrill rhetoric against each other. Their DNA is same, politics same, and the source of their funds are same. Both thrive on crony capitalism as established system of governance. Of course, BJP wrested power at Centre with a simple majority with expert use of exceptional communication and modern marketing tools. Funds were not a problem to buy the skills and tools. The propaganda machinery of INC fell short in both skills and tools of communication and marketing strategy and not by lack of intent. Thus BJP replaced INC with citadel of ruling establishment held safe.
Arvind Kejriwal and his AAP said they will change the rules; they will break the nexus of ruling classes; they will reform the governance system by alternate politics of honesty and simplicity. The masses believed them; 54% of Delhi voters who clearly felt hope of a new beginning.
AAP may create more troubles for them
This is the greatest fear of the established system of ruling by elite classes. Who are they? They are same coalition of vested interests that agitated in Kerala in 1957, West Bengal in 1967, across India in 1973-75.
The real administrative power to change the lives of masses lies on issues such as land, industry, business, police, law and order, government administrative services and appointments to judiciary as well as media policies (including government controlled advertisements).
In Delhi, the elected state government does not have any real power. If the state government were to get a semblance of power, they must join the ruling elite club. Which means, they must make compromises; they must change and cross over to the side of establishment. They must acquiesce to the system of governance. They must be good boys, not rebellious, not asking questions but obeying and respecting the hierarchy. Do not rock the boat, baby!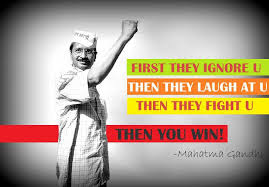 But, the AAP government and its CM Kejriwal will not learn. They are determined not to learn the ways of establishment. That is why they are anarchists. They should go by procedures, constitutional norms, established traditions of taking orders from LG, MHA and other constitutional authorities. They must forget that they promised to serve the people and only serve the system. A corrupt system held to ransom by cronies of feudal capitalism, of new landlords: the tycoons of industry and media houses.
'Ruling Class' is served when the pro-people pro-masses rhetoric is used to pay lip service in high sounding speeches in India and abroad. Masses have to be left alone without giving them any real power. In simple words, the administration must dutifully protect the interest of ruling class. BJP understands this basic principle, but AAP rejects it. The genesis of conflict between Delhi state government and the Central government is their basic approach to politics and governance.
AAP has not shown any signs of compromise. Examples are: CAG audit of Discoms controlled by corporate houses Tata and Ambani, Giving piped water free within limits also action plans of laying water pipelines in localities served by tankers. Additionally, focus is on taking on small-time corruption of police and administrative machinery. The outcry on the supposed purchase of sophisticated eves-dropping equipment assuming that such devices will be used on political opponents is a telling example. How on earth are our IB, CBI and other intelligence agencies reporting to Centre functioning without infringing upon the freedom of citizens? Why assume that Delhi ACB will abuse while others will not?
The Anti-corruption Crusade and effect on the ground: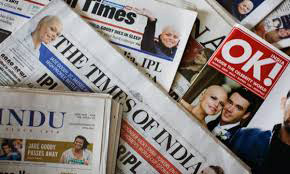 Both BJP, INC and LG cannot be aware of the effect on ground and success of anti-corruption crusade of AAP. AAP is committed to curb corruption by all means at its disposal. Whatever corruption they have curbed by now, it has threatened the interest of the ruling class. They might have lost significant income from illicit sources. If corruption is allowed to be successfully curbed in Delhi, this trend will spread throughout the nation. Corruption-free Delhi by extension is therefore, political suicide for the ruling class. The mask of democracy, prosperity and development might be lifted from the face of the ruling parties if AAP is allowed to succeed.
The role of mainstream media and opinion-makers on their pay-roll is to make people believe that the ruling party will make common man's life better. Modern marketing like online surveys, scripted debates in front of selective audience, shrill debates where only anchor is heard and anyone disagreeing is shouted down, are examples of modern tools used to manipulate of popular mood. In this brand of democracy, a flock of sheep is led to believe its butcher as saviour and a genuine saviour as a kidnapper. How can AAP be allowed to break the constitutional norms of such a brand of democracy? It is dangerous to the survival of all traditional ruling parties, especially BJP in the near term.
They are creating all sorts of problems through their own Lieutenant Governor
Of course, LG will be shown the door if he joins hands with a government that does business in an abnormal way where CM, Cabinet and MLAs go to the people and not vice versa. The people are no longer grovelling at the feet of politicians. The politicians still are, as if, the voting is not yet over. The AAP politicians working through Mohalla Sabhas and checking in detail work of government employees in public utilities departments is crazy. Why do they not sit in their air-conditioned offices and seek their share of embezzled loot? Why do they not agree to send a portion of it to those higher ups? The whole corruption industry in Delhi is in shock and so is ruling class.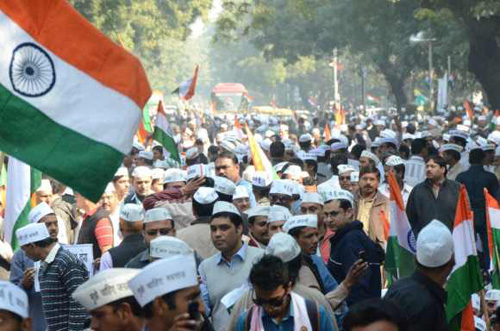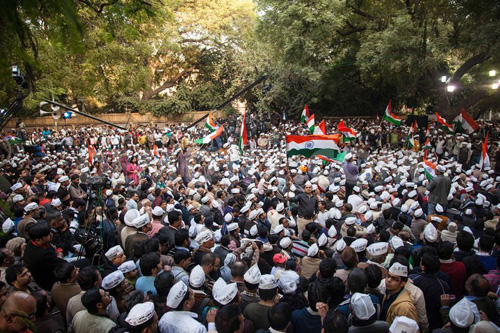 Only the LG can be trusted to guide the frustrated ruling class and prevent breakdown of constitutional processes of governance for them. Let the masses be damned: they are supposed to ride serve: swap and mop our homes, do our laundry, drive us to malls and shopping cum cinema multiplexes, collect and dispose our garbage and show gratitude for allowing to earn a few rupees and retire to their overcrowded huts amidst filth and human excreta.
The ruling classes certainly do not approve of freebies like subsidized electricity, free water and hello! Free WIFI, how dare the common people want access to internet?
The wold of ruling class is crumbling, if only someone stops AAP. LG, do you hear?
Als Read : 100 days of battle for Control of Delhi