Former Maldives President Nasheed arrested
Male, 05 Mar 2013 (AFP): Police in the Maldives arrested former Maldives president and opposition leader Mohamed Nasheed on Tuesday, defying pressure from India which had called for him to be free to campaign for elections, his party said.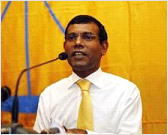 "A large number of policemen arrested him in (the capital) Male a short while ago," spokesman Shauna Aminath told AFP by telephone.
He will be produced before court tomorrow.
Nasheed had taken refuge at the Indian High Commission in Male before walking out a few days ago.