Moodbidri: Reception Committee Presents Invite to Dr Vivek Rai, Chairman of Alvas Vishwa Nudisiri
Media Release


Moodbidri, 12 Dec 2013: Alvas Vishwa Nudisiri Virasat reception Committee presented the invitation to Dr B A Vivek Rai, chairman of upcoming Alvas Vishwa Nudisiri Virasat – 2013, global cultural extravaganza.

K Amaranat Shetty, president of the reception Committee along with Alvas Education Foundation trustee Vivek Alva and others met Dr Vivek Rai at his residence 'Suyil' in Mangalore and presented the invitation.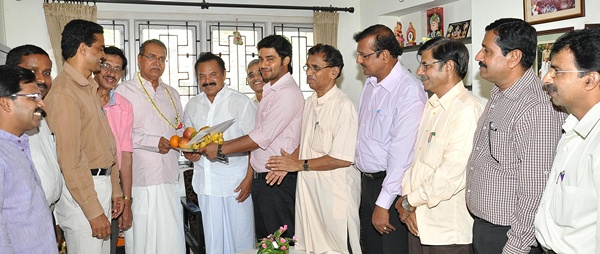 Speaking on the occasion Dr Rai hoped Alvas Vishwa Nudisiri Virasat – 2013 will give fillip to Kannada and its distinct culture worldwide, said Dr Rai.

Andaru Gunapal Hegde, Alvas Education Foundation deputy administrator N R Ballal, Professor A V Navada, Dr Vamana Nandavara, Dr Satyanarayan Mallipattana, Dr Narasimhamurti, secretaries Venugopal Shetty, Dr Dhananjay Kumble, Dr Yogish Kairody, T A N Kandige, Ramprasad K, Shivaprasad, Nagesh Kallur and others were present on the occasion.