Kuwait: Indian Actress Singer Vasundhara Das to judge finalists at Singing Superstar
By Vinod Lewis

Bellevision Media Network


Kuwait, 24 Sept 2012: After the success of "Dhoom Machale" with the dance India dance fame choreographer Terence Lewis, Indian Youth Society-Kuwait will be presenting "Singing Superstar" on 27th September 2012 at 7.00 pm at Kuwait Medical Association Auditorium, Jabriya Kuwait. Vasundhara Das- A dynamic Indian Actress & Singer will judge the finalists.
In Junior category Julia anil thevalakar, Rinie Mariam Lal, Vineeth A Joseph, Reeves Thomas George, Moses kurian Mathew, Ramisa Nawal, Merlin Abraham and Kishan Paul raja will contest for the title whereas in seniors category Kevin Koshy Jacob, Poornima Anna Dominic, Tojan varghese Mathew, Paridhi Garg, Andrea Petula D souza and Aleena Rehan will perform. The tough competition is expected in Super Senior category where Noufal kacheri valappil, Neelima Elsa Dominic, Vishal Kumar Bhatiani, Subhashish Bhattacharya, Khalifa Abdulaziz, Urooj Shaikh, Jaya Dheeraj, Anuj Singhal and Abdul gafoor MK will compete for the title.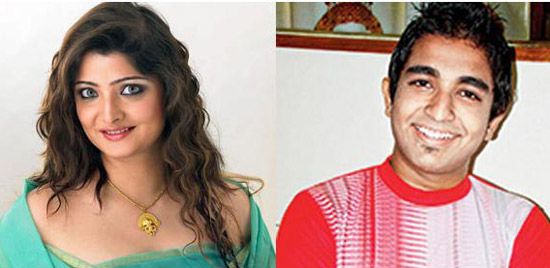 After the competition, there will be performances from Vasundhara Das and Indian Idol finalist Rajdeep chatterjee. Enjoy rib tickling jokes by Rehman Khan, the stand up comedian, who was seen in 'Laughter Challenge 3", 'Punjabi Chakde", 'Comedy Champion", 'Dekh India Dekh", 'Raju Haazir Ho", 'Chinchpokli to China", 'Bade Miya Chota Miya" and so many other comedy shows on tv.
Vasundhara Das, is an Indian singer and actress. She has acted in Hindi, Tamil, Kannada and Malayalam films. She is the co-founder of world music band Arya. As a playback singer, she is best remembered for singing "Shakalaka Baby" from the Tamil film Mudhalvan, which was also her debut song. She has performed many hit songs in Hindi and Tamil films thereafter.hebun's band. Her breakthrough as a playback singer came with "Shakalaka Baby", the song for which she is best known for.[5][6] She sang it for the 1999 Tamil film Mudhalvan, under composer A. R. Rahman. She later recorded most of her hit songs with Rahman in Tamil as well as in Hindi. Her breakthrough in Bollywood came in the 2001 film Aks with songs like "Rabba Rabba" for which she was nominated for the 2002 Filmfare Best Female Playback Award.

She has sung one song "Pattu viral thottu vittadhaal" for Ilaiyaraaja in the Tamil movie Dhanush directed by A.M. Gurumani. She has sung an English song in the Hindi film Lagaan for the British character played by Rachel Shelley, again under A. R. Rahman. Her most famous Hindi song is "It's the time to Disco" in the film Kal Ho Na Ho sung for Preity Zinta . She is also well known for the song "Kattipudi Kattipudi Da" in the movie Kushi. She often sings for the actress Preity Zinta among others. She has also sung for the hit movie Jaane Tu Ya Jaane Naa. She has recorded her own album of non-film songs. She has sung in French, English, Kannada, Tamil, Hindi and Telugu.

Bollywood singer and Indian Idol star Rajdeep Chatterjee has sung the title track and hit song "Aao Ji Bao Ji" from Bollywood blockbuster film Bodyguard starring Salman Khan and has recently recorded a song with Oscar, Grammy and Filmfare award-winning composer AR Rahman. Rajdeep rose to fame as a finalist on the reality show Indian Idol where the judges lovingly referred to him as Mr. Smiley and judge Anu Malik declared him to be the best singer of the season. He was also winner of the reality show singing competition Fankaar and finalist in the reality show singing competition Sa Re Ga Ma Pa Lil Champs.
The Indian Youth Society was established by the initiative of a bunch of young Indians with the purpose of creating a youth revolution. The society has been successful in amassing wide popularity amongst the youth of Kuwait and in spreading the Indian Culture amongst the people of Kuwait.
The main attraction of the competition and the show is that the participants can perform in any possible language.
For more information please call : 66127231, 96686912, 97386757 and 67004898 or email iyskuwait@gmail.com